Well, it is with kiddos, that's for sure! I had planned to write a post all about colour - how much I'm inspired by colour; what different colours mean for me; finding out what colours interest you...but it's been a busy day, so I'm going to do the sensible thing and store that idea for a little later. Between swimming lessons, visits with friends, a two year old who still naps, and keeping five and seven year old brothers busy, there's little time for blogging.
However! I do still manage to get things made here and there, so instead of my colour post (which I do promise to get back to, because it should, I hope, be interesting!), I'd like to show you some of the sea themed pieces I've been up to.
I love the beach (I don't know anyone who doesn't, I have to say...), and I've always liked beach themed things. Needless to say, this does influence my jewellery making, especially this time of year! So here is what I've been up to...
here
in my etsy shop.
here
! I purchased both of these beautiful seaside sets of beads from
artwithheart
.
SoulSilver
) to which I've added crystal, Czech glass, and sea charm chain dangles, as well as wire wrapped Venetian glass coins in vivid teal and turquoise. I've even used a seashell toggle clasp! (I love little details like that....)
Moogin Beads
. I've had it in my stash for ages, and then it finally dawned on me that it really is kind of sea theme in colour - and huzzah! - I came up with the design for this lovely necklace!
fruit slice
dangles from
tooaquarius
.
I've been up to plenty more, but I don't want to make this post novel length! You can check out my other work on my
facebook
page. For now, I'll leave you with a few links to some of my favourite shops for sea themed goodies, amongst others!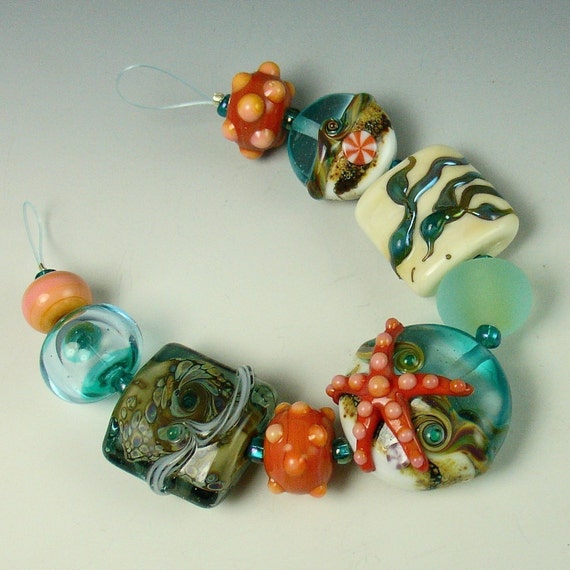 Gorgeous, aren't they? My first purchase of lampwork beads (and the beginnings of a bead addiction!) was from
Stephanie Dieleman
. Her sea themed beads are still some of my favourites.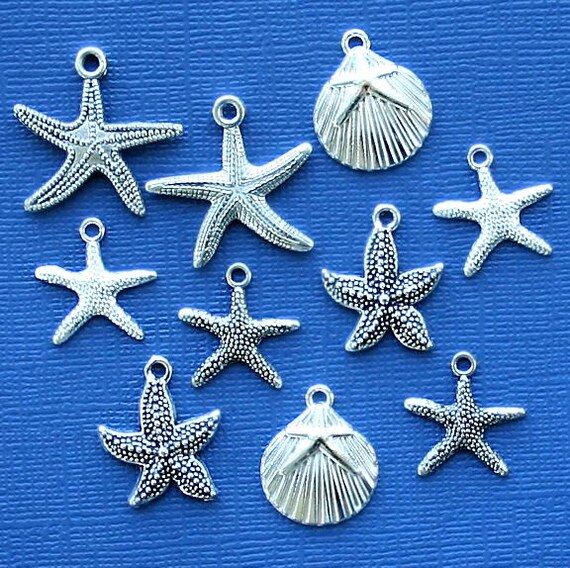 And
BohemianFindings
is a favourite for charms of all kinds, including these lovely starfish!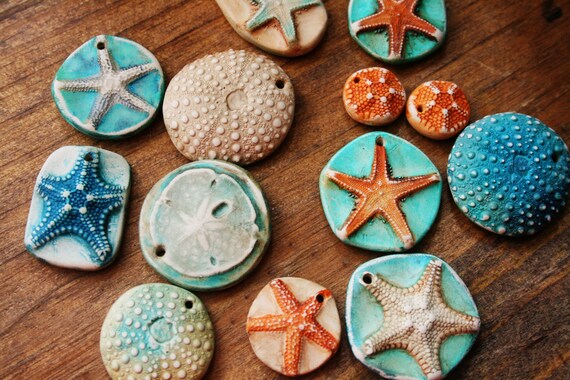 SummerWindArt
is a new one to me, and I've just made my first purchase from this shop of beautiful polymer clay beads and pendants. I'm excited to receive the gorgeous goodies I ordered!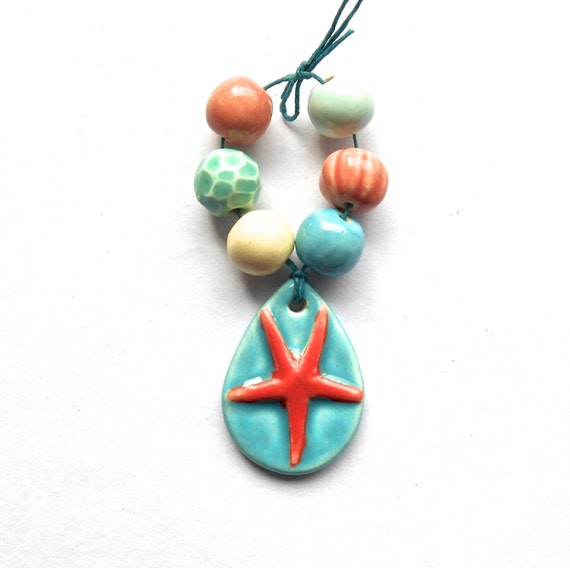 Here's a beautiful set of ceramic beads from
Bo Hulley
. I have a similar set in my stash, and I'm sure whatever I dream up with for them will turn out to be just lovely - I mean, how can you go wrong with such gorgeous beads?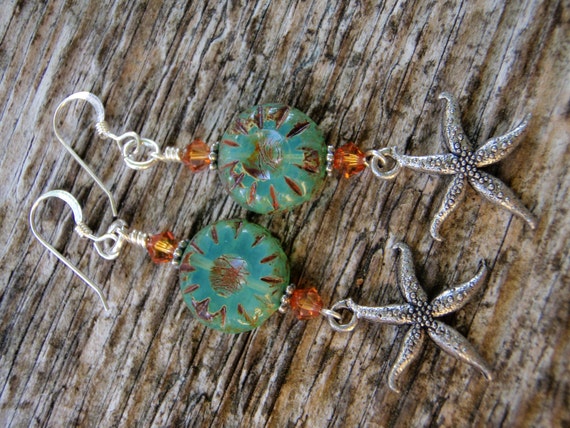 The last link I want to share with you is for
BobbiThisnThat
(the shop is closed for a few days as I type, but will be open again soon). This shop is my go to source for Czech glass beads of all kinds of shapes and sizes, including the beautiful green ones you see here in my
earrings
, as well as the vivid orange beads and the turquoise flowers I used in the hot air balloon necklace above! Do go and check it out - there are so many beads to choose from!
On that note, I'll leave you to carry on enjoying your summer =)